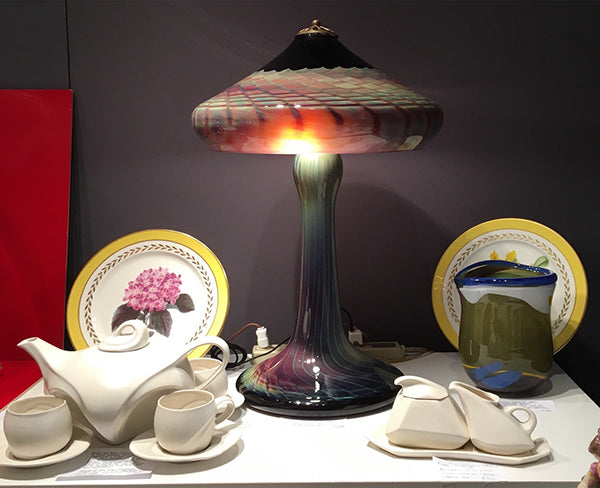 Peter Saenger designed his architectural and nesting teasets in the 1980s. They still hold their own. This corner of my booth at the NY Ceramics and Glass Fair of 2018 was our "hot" corner. Everyone who stopped by ogled the teaset, which was featured in Star Trek, The Next Generation.
Joseph Clearman designed the dichroic lamp in 1999. The beauty of Clearman's glasswork overwhelms me. His sensitive color combinations, both in the unlit (blue-green) and the lit (red-blue) are incredible. 
Dorothy Hafner is a working artist, who now makes large stained glass installations. Her remarkable success in the 80s as a ceramic artist chosen by Rosenthal, gave her the ability to choose what to do after she decided to leave ceramics for glass. The green ovoid glass vase to the right in this photo, is by Dorothy. The wonderful sense of vivid color gives the vase remarkable presence. 
Lastly, the yellow plates in the background, are designed by me for my Bespoke Porcelain Company. From a series of Ochid images, these two "Sol y Flor" pattern plates represent the rich traditions in which I work.
Many of you know that I have spent many years focusing on 18th and 19th Century porcelain. As I move through the early 21st Century, the call of modern design has proved irresistible.