Contemporary Weaving by Aga Patacz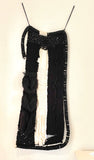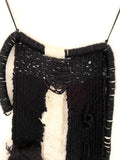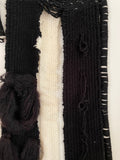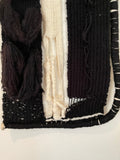 Description
Contemporary Black and White Abstract Woven Wall Hanging by Aga Patacz, "Picasso Inspired."
Aga Patacz is a contemporary weaver living in Canada. This is the second commissioned hanging for Jill Fenichell, Inc., to create a set of hangings for the four seasons.
Hand-dyed, all natural wool.
Dated 2017.
 53 1/4" H from the hanging loops x 19" W from the widest point. 43 5/8" H without loops.