18th Century South Staffordshire Enamel Fish Gaming Counter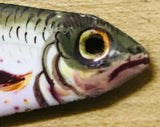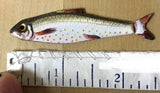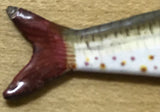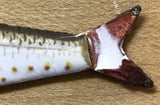 Description
18th Century South Staffordshire Enamel Fish Form Gaming Counter.
Formed as a fish, - a rainbow trout- and painted fairly realistically in white, green, puce (red-pink), and yellow with scales, fin, eyes and mouth.
2 1/2" long.
Circa 1770
Chip toward tail reglued; 1/8" and 1/16th chips to end of tail.
This may very well be the most perfect gift for a person loving whist, bridge, cards, fish and fishing. Gaming counters became more popular toward the end of the 18th Century - the more-commonly found ones are mother of pearl.
South Staffordshire had a wonderful and thriving luxury-goods business in the 18th Century-it is close to Birmingham, a silver-making city; and not far from Stoke-on-Trent, the capital of the ceramics industry. Enamel-making combines these and elements of jewelry making.