SOLD 18th Century Staffordshire Saltglazed Stoneware Leaf-Shaped Dish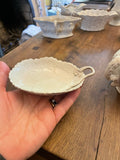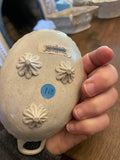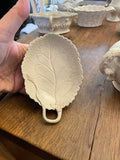 Description
Sold A18th Century English Saltglazed Stoneware Leaf-Shaped Dish, ovate form with serrated edge, incised and impressed with veins, u-shaped vine-form handle, on three low floriform feet.
1 1/2" H. X 5" L. X 3 1/8" D.
Unmarked.
Circa 1745-1755.
Condition: frit throughout most of underside. Minute chip to one leaf edge, 4th leaf from tip, right side. Minor pitting and frit to front, center.
Provenance: Jonathan Horne, 2004.
Robin Henry Ceramic Collection, NY 2004 to present.
Collection number 118b.