SOLD Pair of Fine Yellow Ground Double Gourd-form Vases, 19th Century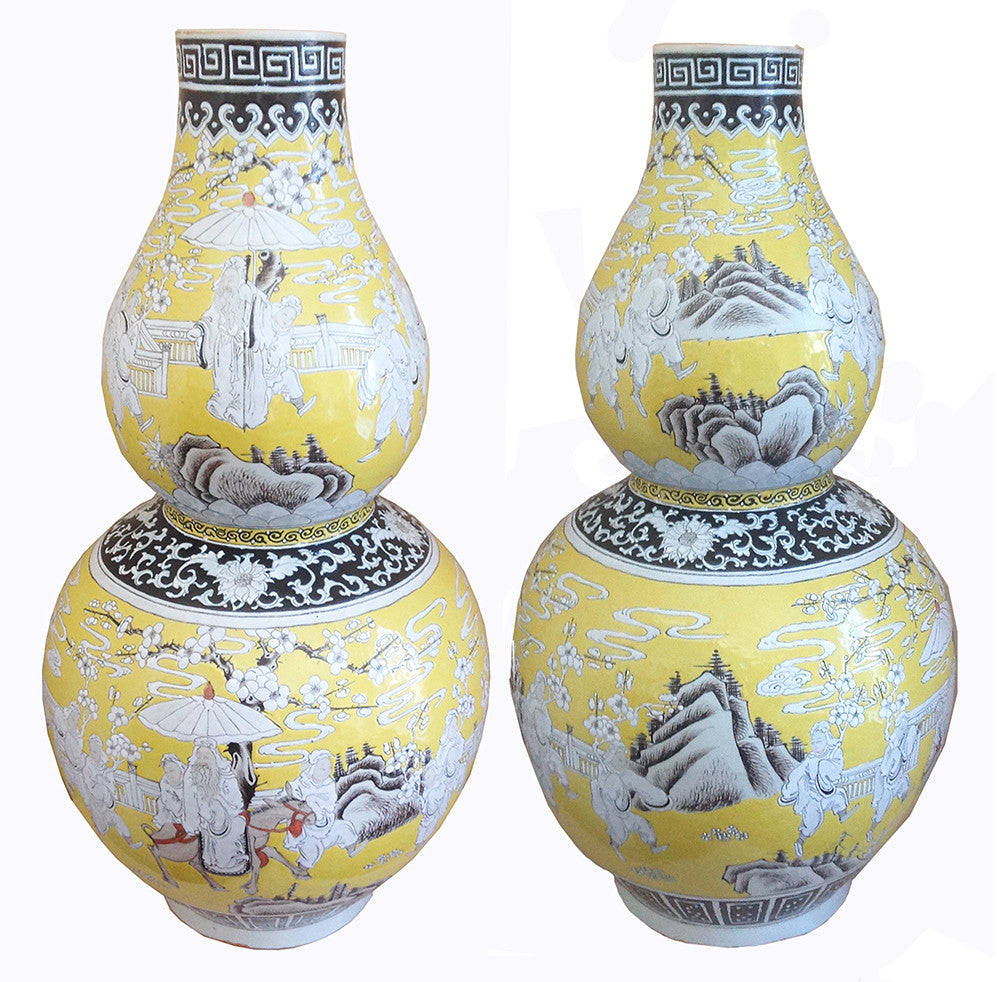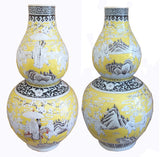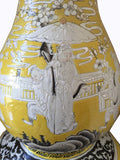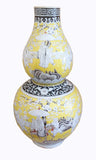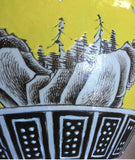 Description
The bodies finely-carved with grand figures mounted on horses, with another figure mounted behind, surrounded by undulating chrysanthemums, children at play among blossoming trees and curving cloud elements, all enameled in black, white and pink, the painting of very fine quality. The figures bracketed by a band of black and white Greek key over lambrequins just below the mouths, a double band of leaf-tips to the bases of the smaller gourds, a scrolling border (located where the first and second gourd-forms meet), a band of finely-wrought scrolling chrysanthemums. The border at the base is painted with dominos, each of which has various numbers to the surface. Unmarked.
The Empress Dowager Cixi effectively ruled China from 1861 to her death in 1908. Her mark is NOT on these items. During the 1870s, Cixi decided it was important to restore The Old Summer Palace, the Yuanming Yuan ("Gardens of Perfect Brightness"). Many of the porcelains made for the palace were in bright colors, particularly yellow, and these Imperial wares were painted with peonies and chrysanthemums. 
21 1/4" H. 
(One upper vase lip with a chip professionally glued and over-painted, the restoration work is of very high quality; crazing/crack to interior bases of footrims, as manufactured; minor enamel flaking near the base of one).
Of course, right through the Republic period, copies of these DaYa Zhai wares were made. The vases being sold here are not imperial products nor are they of the fine, thin-walled porcelain later popularized in the Republic period. The bodies are relatively thick and the decoration on them of unusually fine carved painting.
The size and color palette of this pair of vases make them a great asset to any refined interior. 
Provenance: Bought by a New York private collector from a New York dealer in 1987, and in the same private collection until now. Another vase with the same decoration was sold at Freeman's Auction house in Philadelphia, 9/14/2013, lot 165, sale 1468. 
Price is for one pair of two vases.