SOLD Mexican Modernist Silver Zig Zag Necklace, after Antonio Piñeda Taxco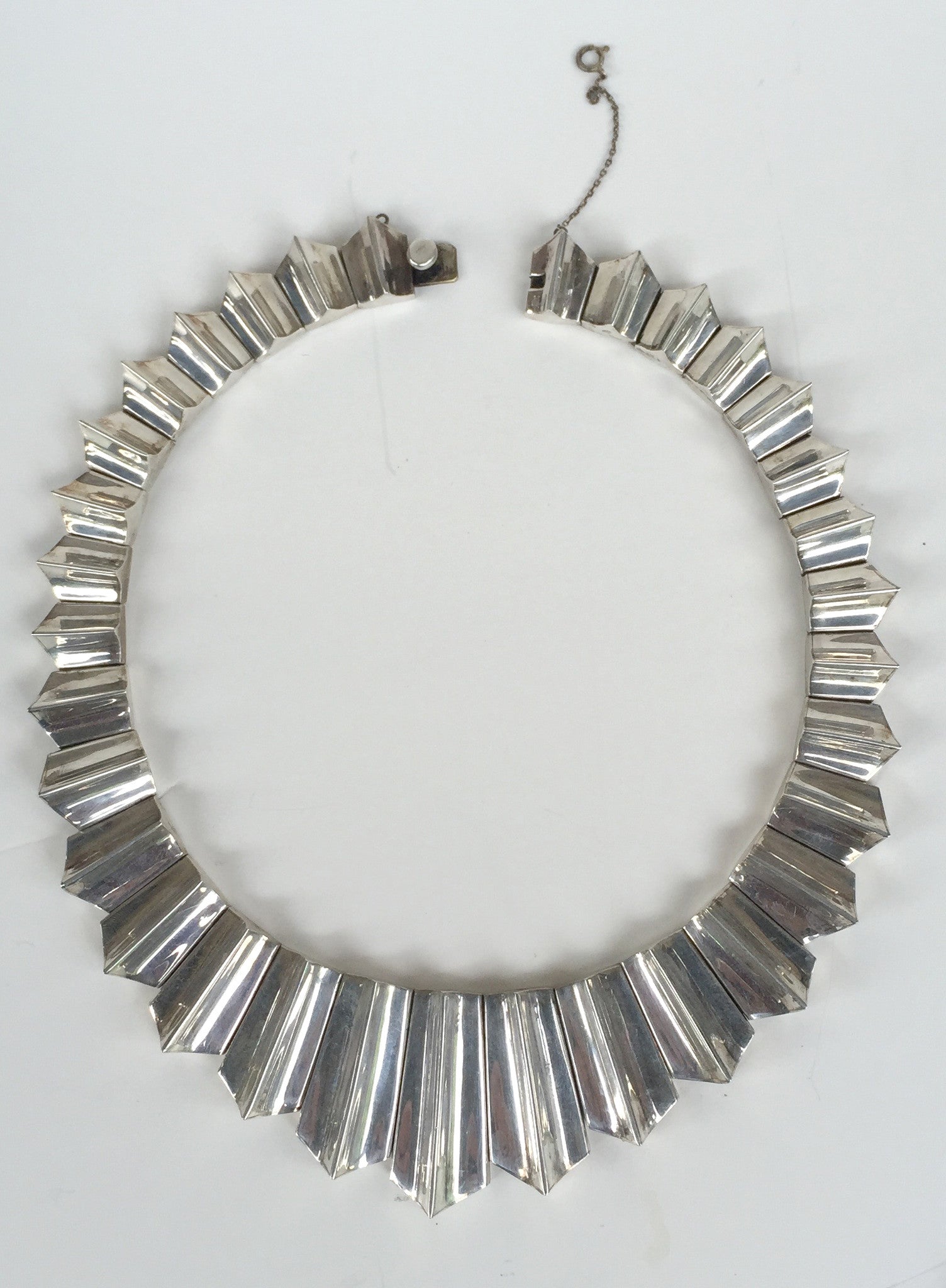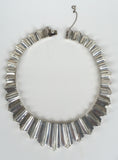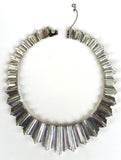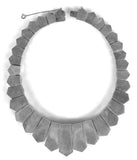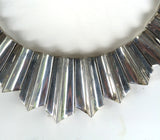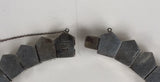 Description
SOLD Mexican Modernist Silver Zig Zag Necklace, after Antonio Piñeda Taxco. The impressive sterling silver architectural necklace formed with flat flaring rectangular beads of with raised vertical ribs to the centers, held together as a unit by two strands. The back of the necklace has a silver button clasp. The clasp marked MEXICO TAXCO .925, and one of the second to largest beads with indistinct additional markings of initials, and possibly the outline of a crown.
The necklace design was first made by Antonio Piñeda (1919 - 2009) in the 1950s. As a young man, Piñeda worked for entrepreneur and designer William Spratling at Taxco. In 1944, Piñeda's work was included in an exhibition at the California Palace of the Legion of Honor in San Francisco. Richard Gump, heir to the legendary Gump's department stores, purchased all of the 160 pieces Pineda designed, and Gump's became the first outlet for Piñeda's wares in the United States. Later, similar high-end partnerships were formed in Mexico, Los Angeles, New York and Chicago markets.
At the peak of his popularity, Piñeda had 100 hands casting silver and manufacturing flatware, tableware, inlaid jewelry, silver jewelry and other fine wares.
 Piñeda's work was the subject of a solo exhibition at UCLA in 2008-09, entitled "Silver Seduction: The Art of Mexican Modernist Antonio Pineda." Times art critic Christopher Knight wrote, "The show makes a compelling case that the work of Pineda, "represents the art's zenith."
(http://articles.latimes.com/2009/dec/20/local/la-me-antonio-pineda20-2009dec20)
The necklace design is featured in Gobi Stromberg's monograph prepared for the UCLA exhibit.     Parallels:  Morrill/Berk, "Mexican Silver," Plate XII-8.
The original necklace was made by Piñeda in .970 silver, with other examples made in .970 and .925, by Piñeda and other workers in the Piñeda atelier.
Details: 17 1/2" circumference to inner neck 
             22 1/2" circumference to outer neck
             1 1/2" tapering to 3/4" link length
CONDITION: Excellent condition, includes the safety chain. The clasp is in good order. An overall cleaning will increase the shiny quality and even the tone of the silver. 

SIZE: Nice heavy piece weighing approximately 7.77 troy ounces The longest link is 1 1/2 inches and tapers to 3/4 inches. 
Please note: this necklace was very popular from the late 1950s to the early 1970s. The necklace was kept in production at Piñeda and copied elsewhere. Most of the Piñeda necklaces have the silver marks on the back of the largest bead. Regardless of the actual artisan involved, the necklace design is truly striking and is a great example of mid-century silver jewelry fashion.