SOLD Staffordshire Saltglazed Stoneware Moulded Teapot and Cover.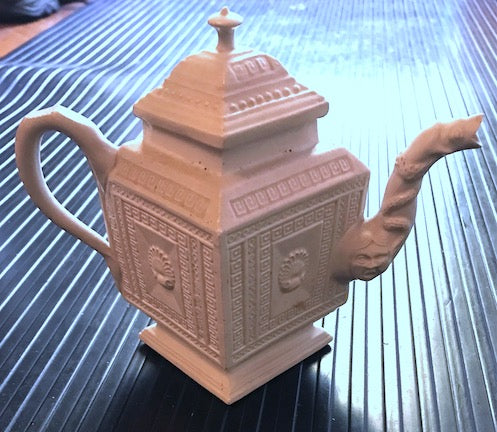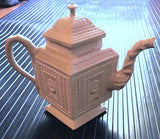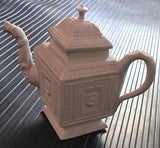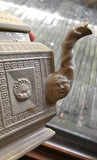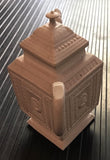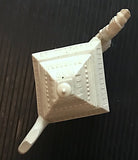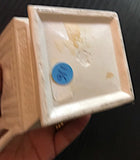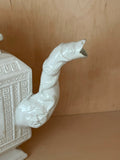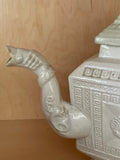 Description
SOLD Staffordshire Saltglazed Stoneware Moulded Teapot and Cover.
Attributed to Thomas and John Wedgwood (Burslem), at The Big House. 
Diamond-shaped body, each paneled side slip-cast with a central shell in a recessed square, a key-pattern band to edges, on a stepped pedestal foot, the spout moulded with a human face and arm entwined by a gaping serpent, the rolled handled with flattened notches.
Unmarked.
Circa 1745-1755.
Height 5 1/2 inches.
Cover professionally-restored; the restoration now visible. The photographs attached herein show the firing cracks and reglued knop which were revealed when I took off the over-sprayed concealer. I thought it was really way too thick and present everywhere and done very insensitively. The entire cover could be redone - better; or a far more attractive approach would be to spray just areas needing it, and none others.

This type of rolled handle with distinctive flat areas called 'natching,' is associated with John and Thomas Wedgwood of the Big House, Burslem. For a block mold for a pot of this form see Arnold Mountford, Staffordshire Salt-glazed Stoneware, fig. 109, and for a discussion of 'natched' handles and their attribution to Thomas and John Wedgwood see pp. 42-44.
Similar teapots were offered in the collections of E. Norman Stretton Collection, as sold at Sotheby's, New York, January 20, 2005, lot 178; and The Victor & Muriel Polikoff Collection, as sold at Skinner's, Boston, July 13, 2017, lot 29.
Provenance:
Aurea Carter Antiques, January 22, 2000.
Robin Henry Ceramic Collection, New York.
Collection #116.
This item is on hold til June 8, 2021. Even clicking to buy will not guarantee purchase while items are on hold.