18th Century Worcester Porcelain Coffee Cup with Smokey Primitive Print.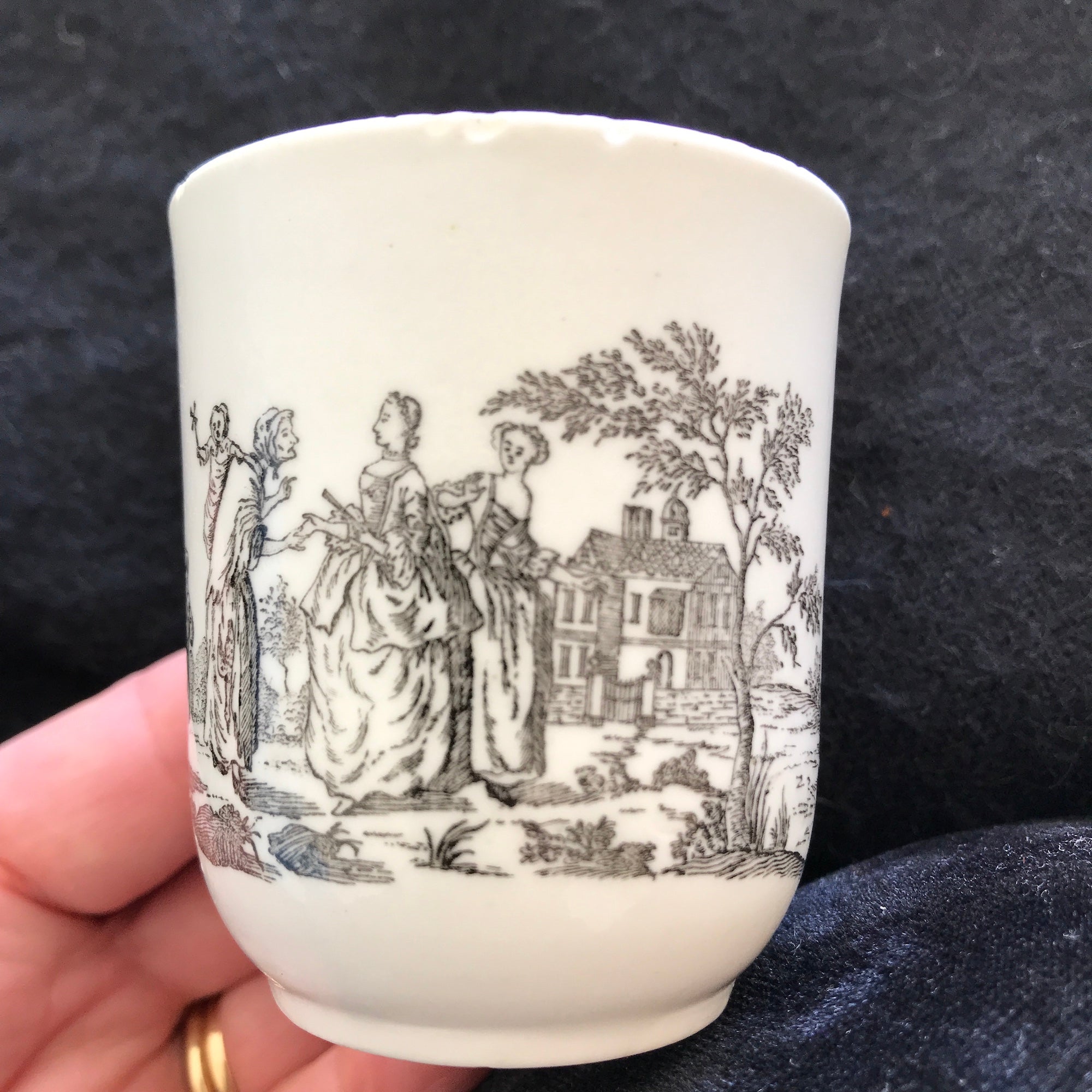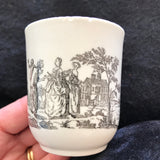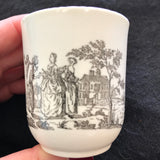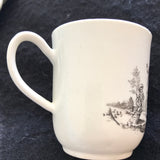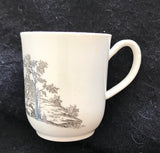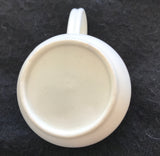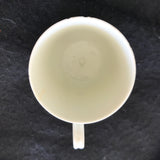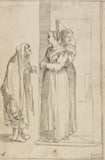 Description
18th Century Worcester Porcelain Coffee Cup with Smokey Primitive Print. 
The cup with ridged ear-form handle, with rare and early transfer-printed "Smokey Primitive" of "The Fortune Teller." The print depicts a crone, the fortune teller, with a baby on her back; the baby is holding a pinwheel. To the left of this figural group stands a boy playing a toy trumpet, holding a stick, near docks in a pond. To the right side of the fortune teller, stands the genteel lady, whose fortune is to be told, her lady maid to her left, and a fine house in the background, with trees bracketting the figural work. 
Unmarked. 
Circa 1754. 
2 5/8" H. 
Condition: Five 1/16th inch shallow chips and a nick to rim.; one nick to footrim. Three tiny divots to handle, left side, arch;. Glaze blow out 1/2" below lower left of print. There are two glaze blow outs to the cup interior. To the center, interior well, is a nipple of porcelain, not usually found on Worcester wares of this period. 
Provenance: Stockspring Antiques.
Robin Henry Ceramic Collection, New York.
Collection #72A. 
Parallels: Halfpenny, Pat, ed. , Penny Plain, Twopence Coloured: Transfer Printing on English Ceramics 1750-1850, Pat Halfpenny, Ed. (Stoke-on-Trent, England: City Museum Publication: 1994), includes this print in a discussion of smokey primitives. 
Watney, Bernard M., "The Origins of Some Ceramic Designs," English Ceramic Circle Transactions, vol. 9, no. 3 (1975).
The print possibly inspired by a similar scene depicted on the Continent, by Annibale Carracci in the early 17th Century. "Una Valente Ruffiana" from "L'Arte di Bologna" is particularly similar in sensibility as far as line; other sources may have contributed additional aspects to the print.