SOLD English Victorian Rare Worcester Parian Figural Group, "Uncle Tom, Eva"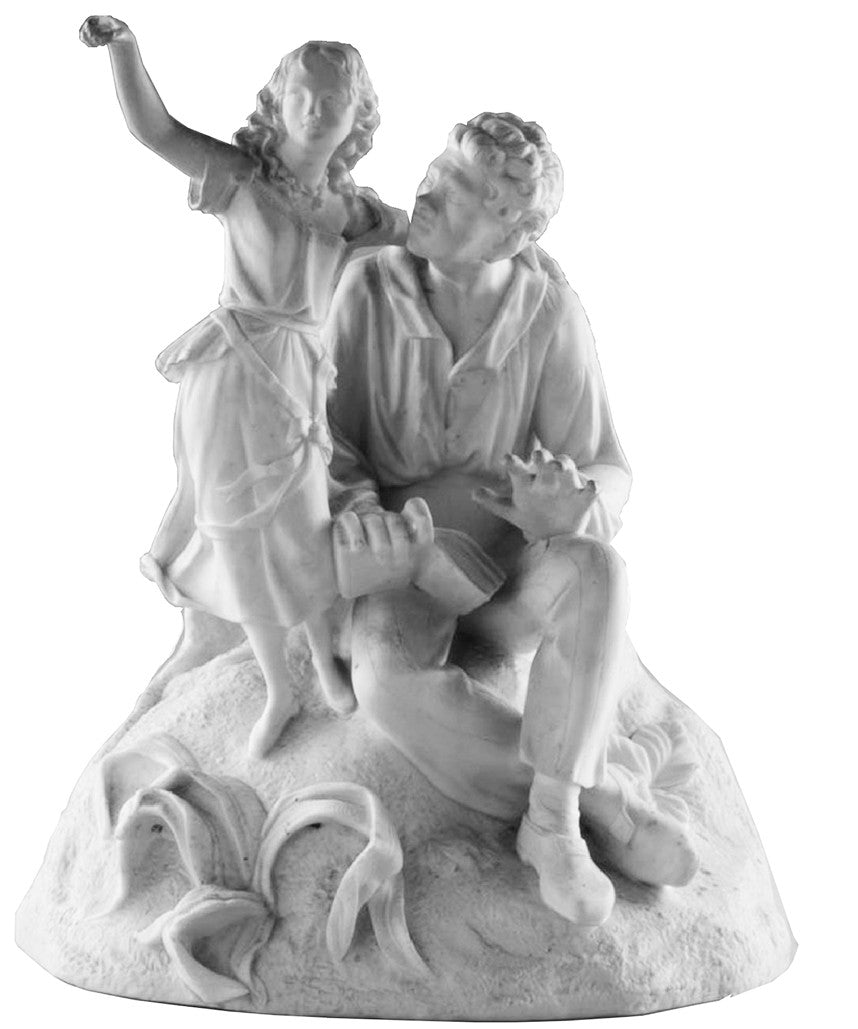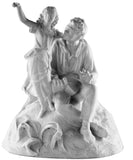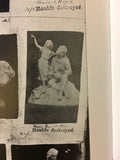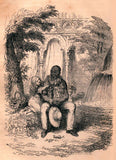 Description
SOLD - Please note this item is on hold. We will get in touch with you regarding its availability or lack thereof within six weeks of 1/10/17. English Victorian Rare Worcester Parian Porcelain Figural Group, "Uncle Tom, Eva," the young Eva poised theatrically, right arm raised delicately,  standing on a verdant mound issuing low-molded corn leaves, her left arm around the seated figure of Uncle Tom holding a book in his hands. The pose is inspired by George Cruickshank's illustration of the same theme, although in Cruickshank, Tom holds a book rather than a hat. 
Impressed "T.W. Boynton Kirk" to the lower verso of the figure.
11 1/2" H., 9 1/2" W., 6" Deep. 
Circa 1853-1856.
Good condition, the group with some discoloration of the porcelain. Eva's finger is broken on her raised hand; a few chips on the base.
Comment: 
Irish artist William Boynton Kirk (1824-1900), ARHA, HRHA created popular sculptural works exhibited starting in 1851 at the Great Exhibition of the Works of Industry of All Nations (aka the Crystal Palace Exhibition). Kirk also exhibited at the Royal Hibernian Academy Annual Exhibition several times and was appointed chief figural modeller at the Binns and Kerr factory in Worcester from 1852. At the factory, he created a variety of designs in parian ware. Kirk's popular works included religious, theatrical and governmental subjects. 
Reference: J. Fenichell, "Ceramic Representations of Uncle Tom's Cabin," Ceramics in America, 2006, illustrated as figure #24 http://bit.ly/2iCbyuu
The mold illustrated in The Parian Phenomenon, page 218, figure 715, mold 2/44, "Eva and Uncle Tom," parian sculpture from the Royal Worcester production catalogue, ca. 1853–1855. Salt print photograph. 3 1/8" x 2". (Courtesy, The Worcester Porcelain Museum.) Wendy Cook, curator at the museum, has seen only one example of this figural group, and it was painted with polychrome enamels. This undecorated example may be unique.